You've probably seen tons of landing pages with interesting offers in the past.
Some really good ones, some average ones, and some terrible ones.
The truth is that some people try to reinvent the wheel by making their landing pages excessively complex by adding too many options, sections, buttons and not having a clear objective.
It's not a secret that building your online assets such as an email list, YouTube channel, Instagram following, Facebook group, etc are really important if you want to succeed in the internet marketing world in the long-term.
But how do you build your email list?
There are many different ways of doing it, but it is not a mystery that the best way of building it, is by giving away something of value for free (lead magnet) to your ideal customers and in that way earn their trust.
I won't bore you by telling you stuff that you already know…
My goal with this blog post is to tell you exactly what WORKS and give you the simple framework that my mentor and I use to craft our landing pages.
This simple framework consists of 4 things. Plus, a bonus tip that 99% of your competition is not doing.
First of all, make your landing page as simple as possible!
You don't want people to get distracted by anything else. Make it simple short and straight to the point.
Second, you want your message to be clear and specific. Your landing page MUST have just 1 and only 1 objective. You want people who land on your landing page to either leave or take the desire action you want them to take.
Third, you must include a call to action! You have to tell people what they need to do in order to get your lead magnet. People are secretly willing to follow directions, so tell them to click the button, schedule an appointment, etc…
Lastly, give your prospect an extra reason to take action by adding a bonus that complements your lead magnet and makes the offer even more valuable and irresistible.
Bonus tip: You already did all the hard work of sending people to your landing page to collect their contact info right? Don't stop there, after people take action, send them to a "Thank You" page.
You can use a "Thank You" page in several different ways, but some great ideas could be: to deliver your lead magnet right there, to tell them what are the next steps they need to take to get the most out of your lead magnet or to tell people to follow you in other social media channel.
99% of your competition is not using this bonus, now that you know it, take advantage of it.
Here is the structure you want to follow: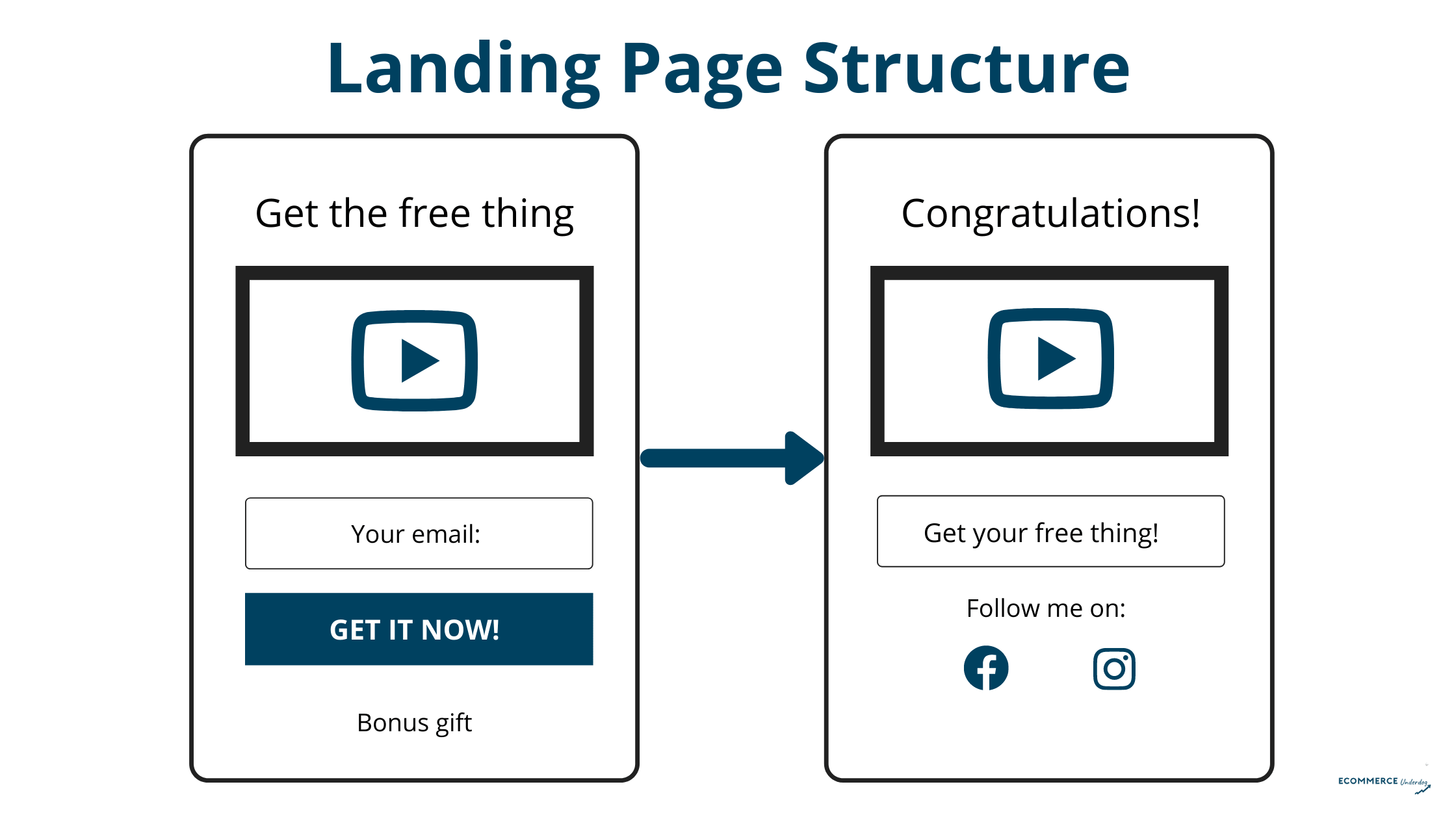 Just remember, you want to use this structure to collect leads and build your audience. That's the main goal of a landing page.
If you sell something else you need to have a sales process in place, which includes a more complex sales page.
But first, you need to collect leads in order to make the offers right?
P.S. If you need help creating a landing page and crafting a high-converting sales process, that transforms visitors into customers by providing tons of value along the way click here! I have prepared a very valuable video for you.