Welcome to my Tai Lopez Knowledge Society review!
First of all, I want to congratulate you on doing your research before buying any type of course online, that's the best way to avoid scams and find the legitimate way to learn, improve your current skills and also make money online!
Having said that, I'm here to tell you why this entrepreneurial training program is worth a few minutes of your time to look into, especially if you are someone who is passionate about starting their own business but don't know where to start.
Check Tai Lopez Knowledge Society Program Here >>
Who created the Knowledge Society?
Knowledge Society is a training platform designed by popular Internet Marketer Tai Lopez.
Tai Lopez is a man who needs no introduction. He's a successful entrepreneur, investor, and author. He also serves as an advisor to more than 20 multi-million dollar businesses.
You have probably seen him all over the internet with his Ads all on YouTube, Facebook, and Instagram.
I've personally taken several of his courses and I can testify that he really knows his stuff and he's definitely worth listening to when it comes to know about how to make money online.
What is Tai Lopez Knowledge Society?
Tai Lopez Knowledge Society is an entrepreneurial education program known as the "Netflix for entrepreneurs", which is designed to help people build a solid foundation towards becoming entrepreneurs themselves.
Through this platform, he teaches people about the 4 pillars of online education, which is HEALTH, WEALTH, LOVE, and HAPPINESS.
Inside this program, you will find several courses on a wide array of topics like for example digital marketing, copywriting, networking, branding, etc. Each individual course is handled by people who know their stuff and are successful in their own field, they are not like a college professor who has never applied what he teaches.
Plus, these instructors are entrepreneurs themselves and have made plenty of money doing what they teach, because of this, you will be getting quality lessons and content that can help you start and guide you in your entrepreneurial journey.
The program is also very affordable and accessible, so there's absolutely no excuse for you to not try this out, or at least check the website.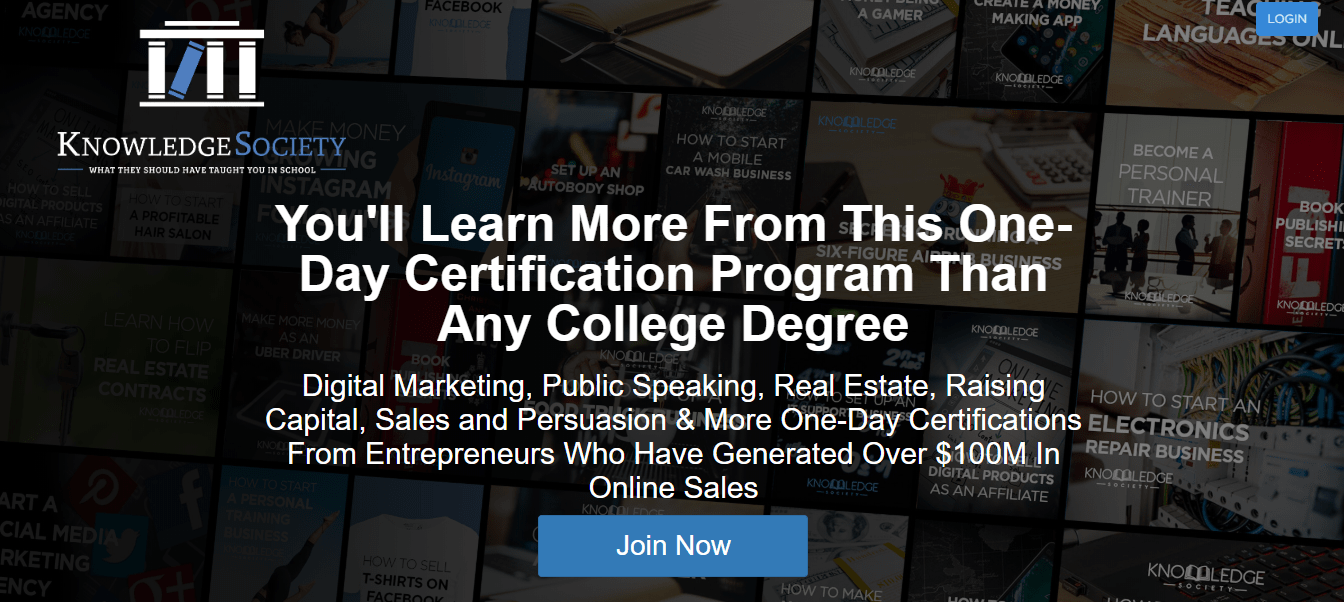 What I'm going to find inside Tai Lopez Knowledge Society?
Within Tai Lopez' Knowledge Society, you'll find a series of pre-recorded video lessons for you on very different topics.
You can watch these videos whenever you want, anywhere you want. The only thing you need is an electronic device and internet in order to take the lessons.
Think of it as something kind of similar to Udemy or Skillshare where you gain access to different courses from different industries.
Inside the Knowledge Society you will find video pieces of training in the following topics:
Selling digital products as an affiliate
Social media marketing
Copywriting
Personal training
Real estate
Sell T-shirts on Facebook
Start a hair salon
Make more money with Uber
Book publishing
Start an autobody shop
Start a food truck business
Running a profitable Airbnb business
Start a mobile car wash business
Teaching languages online
Make money gaming
Create a money-making app
Start an electronics repair business
Start an IT support business
There are so many ways of earning money online nowadays that after seeing this list you probably don't know where to start. In this case, I will recommend you to pick the 4 or 5 that interest you the most and start learning. This will help you decide what type of online business you would like to start earning money with.
The website is continuously updated, which is a good thing. Something that worked a few years ago, might not work today and that's a huge problem universities all over the world have nowadays. Content is added and updated based on the latest trends.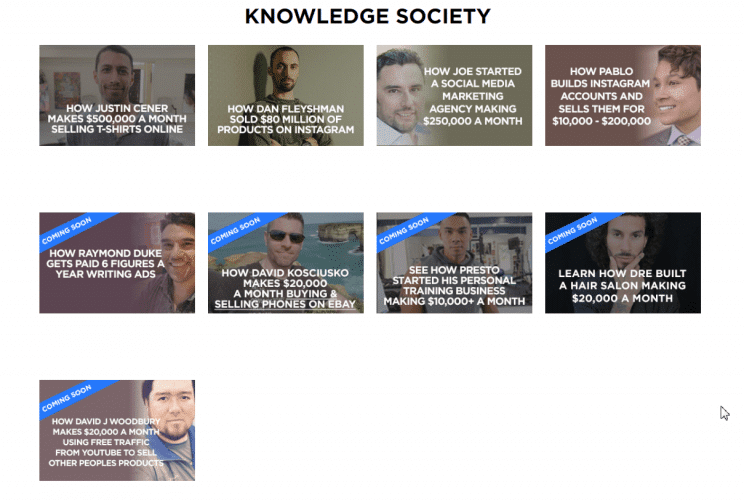 This is a shortlist of the type of courses you can find inside Knowledge Society:
How Justin Cener Makes $500,000 a Month Selling T-Shirts Online
How Dan Fleysman Sold $80 Million Of Products On Instagram
How Joe Started a Social Media Marketing Agency Making $250,000 a Month
How Pablo Builds Instagram Accounts and Sell Them For $10,000 to $200,000
How Raymond Duke Gets Paid 6 Figures a Year Writing Ads (From the title I guess this is a copywriting course)
How David Cosciusco Makes $20,000 a Month Buying and Selling Phones on eBay
See How Presto Started His Personal Training Business Making $10,000+ a month
How David J Woodbury Makes $20,000 a Month Using Free Traffic From YouTube To Sell Other Peoples Products Knowledge Society – The program
All of the courses take between 45minutes to an hour and contain a lot of information on how these businesses work. Plus, you will also find some courses taught by Tai Lopez who is an expert at social media, branding and ecommerce.

Pros and Cons of Tai Lopez Knowledge Society?
Pros:
Affordable, Accessible, And Easily Available
One would think that a program that teaches you how to set up your own business would be very expensive.
But I was surprised to find out that the program is accessible to anyone.
For $7 a month, you gain access to top-notch education from industry leaders, and that's cheaper than Netflix's monthly subscription to boot.
Accessible
You can login to the program from anywhere at any time via your PC/laptop or smartphone. As long as you have Internet connection, you can watch the trainings.
The tutors are very well established and successful!
The people who are behind this course are not ordinary people. If you take a look online all of them are running successful online businesses and therefore know what they are talking about.
Take for example Joe Soto who teaches the "How Joe Started a Social Media Marketing Agency Making $250,000 a Month course". Joe is the Founder and CEO of Revenue Inbound a company based in Virginia that focuses on helping clients attract more traffic, leads and sales online.  Since 2010, over 500 clients have hailed from 40 US States and 7 countries.
They will teach you practical knowledge
Everything you learn inside the program you can start applying and testing to see if they work. And practice my friend is the best way of learning and becoming a master at something.
This is not a getting rich quick method!
You often find programs like these online that make empty promises about helping you become millionaires in a short period of time. There is nothing farther away from reality than such a claim.
However, in all of Tai Lopez' programs, you'll find this disclaimer:
Knowledge Society Disclaimer For Income –> This is not a get rich quick scheme!
This means that your success after following through one of their programs is dependent on how hard and smart you work for it.
There is no such thing as an overnight success.
Cons:
There Are Better Platforms in the market
You will not find everything you need to succeed in Tai Lopez Knowledge Society educational platform if you want to be a full-time entrepreneur. And if you are one of those people who prefers to go after programs that offer certifications or diplomas, then you probably won't find what you're looking for on Tai Lopez.
Platforms such as Udemy or Hubspot do have certification programs that are accredited by different governing bodies, and these programs may help you further with your career or job promotion.
Is Tai Lopez Knowledge Society a Scam?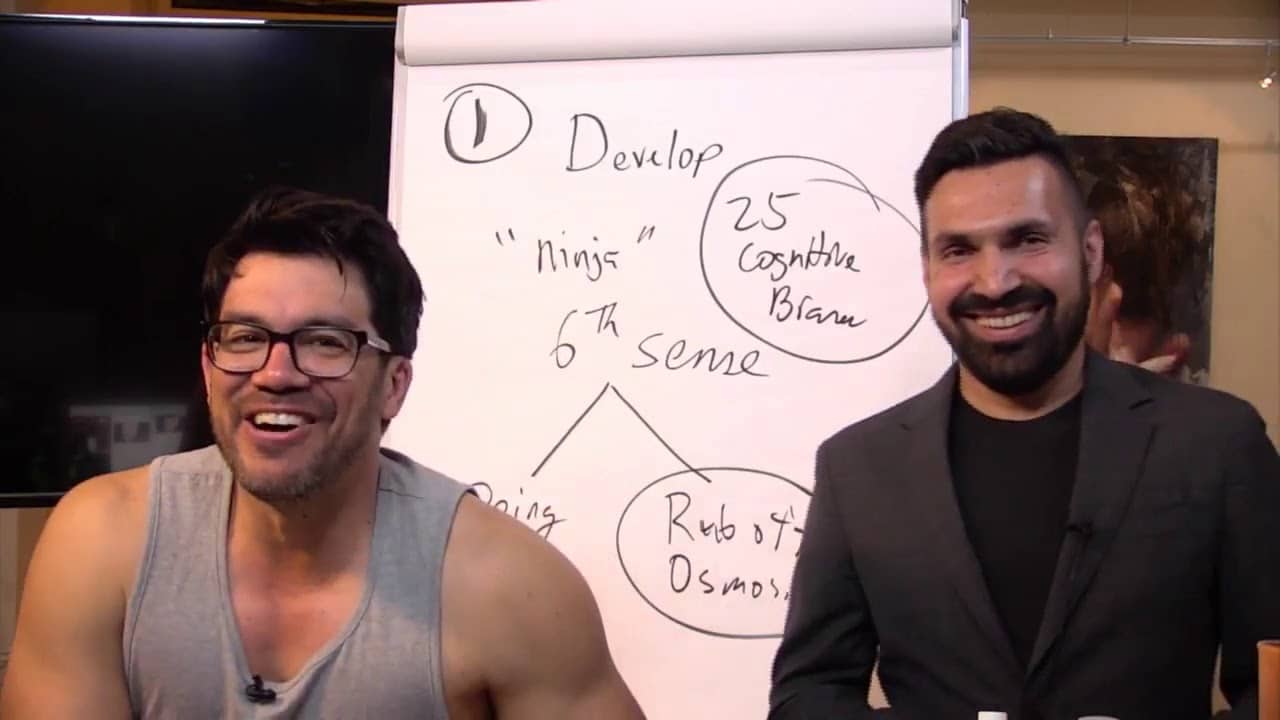 Tai Lopez Knowledge Society is far from being a scam, and it's a very legitimate entrepreneurial education program that builds your foundation towards being financially independent.
Trainers are very successful in their own right and they are sharing their knowledge on how to be successful.
On top of that, the program is extremely affordable and accessible for anyone, so you're definitely getting your money's worth just from the courses you will be getting.
Is it worth investing in Tai Lopez Knowledge Society?
If you're at a point in your life where you don't know what to do or you are stuck in a job you don't like and want to look for other options like starting your own online business, then this program is worth looking into.
You're getting a lot of value for $7 a month, and knowing Tai Lopez, I don't think he's going to disappoint with the content. Plus, you can cancel at any time if you are not satisfied with the value and content he provides, so there is really nothing for you to lose by joining the program.
I would highly recommend this program to anyone who is starting out in the entrepreneurship world and also wants to build up a strong skill set to start making money online and to transform your lives in a positive way.