"Work with Sebastian" is the affiliate marketing program of Sebastian Gomez a 24-year-old 6 figure online entrepreneur from Costa Rica!
He helps people around the world grow their online businesses through principal based marketing strategies. He specializes in a paid advertisement, branding, and conversion rate optimization for E-Commerce, Affiliate Marketing, and selling Services online.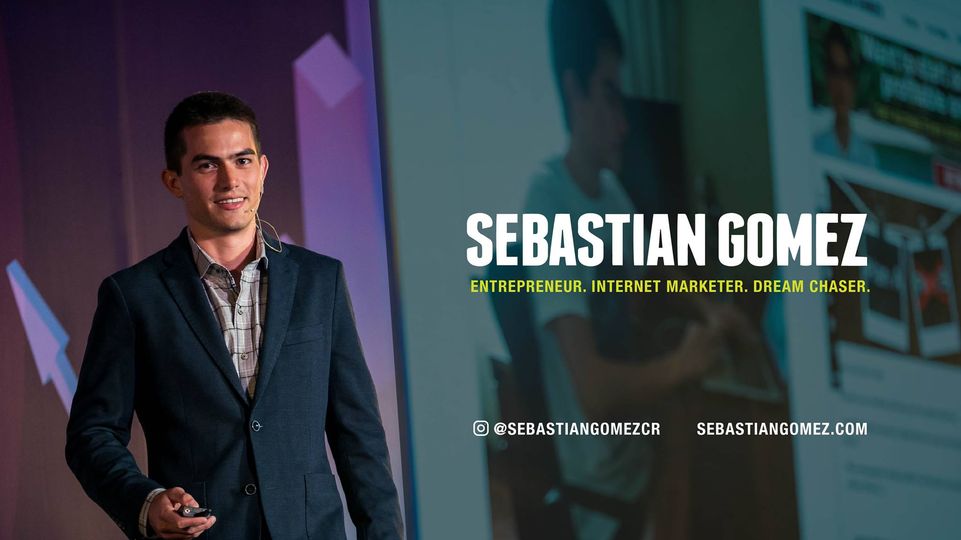 How is "Work with Sebastian" different from other Affiliate programs?
Something very common in most affiliate programs is just getting a few banners and email swipes and then you are on your own figuring out how to promote.
And trust me, I've been into a couple of different affiliate marketing programs in the past and I can say that this is the most complete and comprehensive affiliate program I've ever seen.
Apart from being able to promote Sebastian's offers, inside the program, you will find a mind-blowing Boot Camp Training where he teaches you everything you need to know as an affiliate marketer, even if you have 0 experience online.
Something key about this training is that he teaches you how to build and grow YOUR OWN business with free and paid strategies, by building your email list and growing your own audience so that in the future you can promote your own offers or even other affiliate offers to the audience you are building.
Something Sebastian really emphasizes in his program is that this is not a "Get rich quick program" and as in anything in life to succeed, you really need to work hard and put the knowledge into action in order to see results.
One of the best things about becoming an affiliate marketer is being able to promote other people's products in exchange for a commission without taking care of all the heavy work that goes behind every business.
Because let's face it building an online business or digital marketing agency from scratch is not an easy task for someone who is just starting out online.
For someone who is just starting out or just doesn't have too much capital is not easy to learn how to:
Create a highly valuable product or service
​Create a high converting sales funnel to sell the product or service
Take care of all the fulfillment to have happy long term clients that keep paying
​Build an automated process to generate leads and sales
​Deal with refunds
​Take care of customer service
​Run successful paid traffic campaigns (for your own business and for clients)
​Amongst dozens of other things that building an online business involves…
Being able to have all this system in place has taken Sebastian over 5 years and by working as an affiliate with him you will be able to use all his assets to leverage and start building your own online business. ​Plus, getting all the education that you need, in order to make this work even as a complete beginner!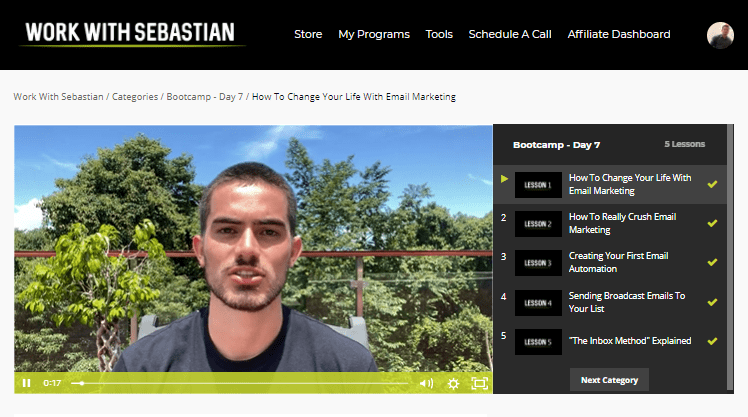 How can I make money with "Work with Sebastian"?
By becoming a partner your main goal and only focus are to generate leads for Sebastians team, then his team will get on the phone with your leads, and when they close a sale for one of his digital marketing services, you will get a big commission.
The commissions you can earn by promoting and getting sales with this program go from $500, $1,000, $2,000, and $3,000 in commissions per sale!
Check out the invitation to the "Work with Sebastian " here!
What are you going to find inside the Working with Sebastian Program?
1.Access to Sebastian's Affiliate Dashboard where you will find your unique links with all the offers you can promote to promote.
2. Being part of Sebastian's exclusive 24/7 Facebook group great for networking and getting ideas from other members.
3.Step by step boot camp training that has over 60+ over-the-shoulder complete training lessons where Sebastian shows you how to start generating leads and seeing results from the get-go. The training is divided into 16 Modules or Boot camp training that includes a couple of very valuable BONUSES which focus on the following topics: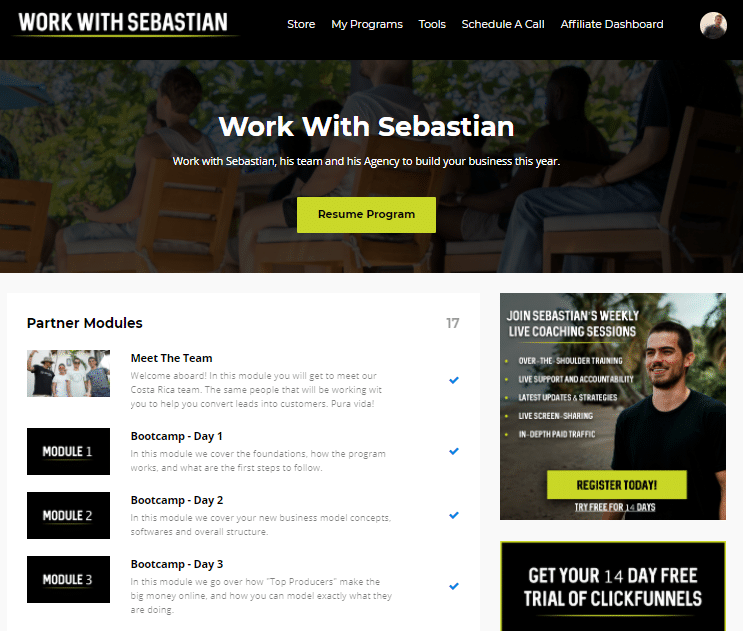 Module 1: Foundations, how the program works, and the first steps to follow.
Module 2: New business model concepts, software, and overall structure of the program.
Module 3: How "Top producers" in the online space make big money online.
Module 4: How does Sebastian Sales process work. (Transforming cold into warm audiences)
Module 5: Start building your online business from scratch.
Module 6: Continue building your business, adding your affiliate links, and integrating all your software together.
Module 7: Start building your email marketing empire and automating your money machine with email automations.
Module 8: How to position and promote the different offers Sebastian has.
Module 9: Traffic 1: Learn the same concepts and proven strategies Sebastian has learned over the past 5 years and over a million dollars invested in ads.
Module 10: Learn the free traffic method Sebastian used to make his first $10k and how you can start applying the same strategy.
Module 11: How to turn on your free traffic machine and start generating leads and sales.
Module 12: Paid traffic: Learn how to launch your first successful Facebook Ads campaigns.
Module 13: Learn how to boost your conversions and get more customers.
Module 14 (Bonus): Advanced Facebook Ads.
Module 15 (Bonus): $78 Case Study & "The Content Call"
Module 16 (Bonus): Sebastian's proven done for you marketing materials.
This is all the training you will get once you decide to join the program, plus having the chance of jumping into weekly calls with Sebastian once you join and upgrade to become a premium member.
Conclusion:
After being a member of the "Work with Sebastian Program" I can tell you that if you are thinking about learning and starting your online business, improve the current results online or add an extra source of income for yourself, this is in my opinion, the best program for you to join.
First, its beginner's friendly approach makes it easy to understand even if you are new in the marketing field.
Compared to other courses I've taken, this one is a much clearer guide that helps you set a solid foundation for your affiliate marketing journey. You learn how to promote not only Sebastian's offers but other affiliate marketing programs as well.
Throughout the course you find actionable homework to put into practice what you've learned. Becoming a master takes practice and is always helpful to have an organized outline to follow.
Plus, Sebastian's way of teaching entices you; you can tell he's someone passionate and very knowledgeable about what he does, every class is meant not only to teach but to inspire.
Aside from all this value, I want to add that the customer service is 10/10. Whenever I have a doubt, Sebastian's team answers within the next 24 hours. A service that other programs fail at.
For the low investment and the amount of value you'll get out of this program, is a no brainer. 100% recommended
Join the "Work with Sebastian program" here!
You can also watch my video review of the "Work with Sebastian Program" where I dive into what you will find inside the member's area and also why I highly recommend you to check this program out.