The success of your online business really depends a lot on just a few key pages on your site. Here the 80/20 rule clearly applies and it is important that you use it in your favor. The kinds of "conversion-focused" pages, are the pages on your website where you very specifically turn new visitors into email subscribers, members, or customers.
What you're about to see here is a new and incredibly easy way to set up conversion-focused pages like this, on any WordPress website. And the best part is: they are already pre-designed and conversion-optimized for you!

What is Thrive Architect?
Thrive Architect is a WordPress page builder from Thrive Themes. This page builder has a very user-friendly drag and drop format that allows you to create any type of page you can imagine with its tons of templates. It is also ideal for marketers, busy entrepreneurs, startup owners, and content marketers because of its marketing and conversion-focused, especially when creating landing and sales pages.
They can also create engaging homepages and design beautifully formatted blog posts. Additionally, Thrive Architect advanced features which include the ability change column layouts, add background images with text overlay, and apply hover effects to elements. Last but not the least, Thrive Architect provides features for creating mobile responsive WordPress websites and pages.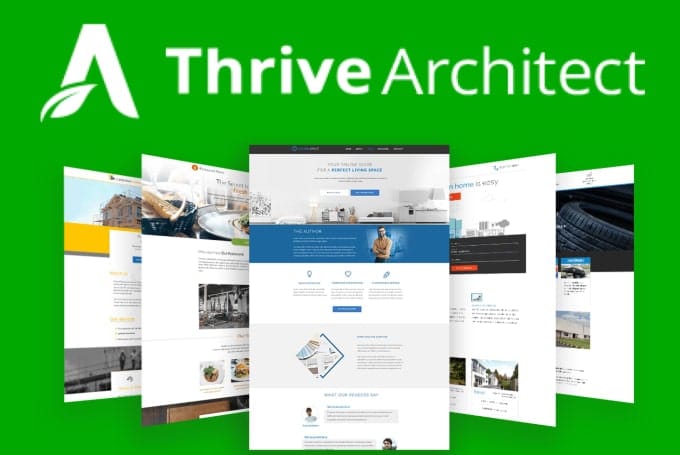 Thrive Architect Benefits
Build Conversion-Focused Landing Pages From Templates
Thrive Architect enables businesses and professionals to create landing pages that can be optimized for lead generation and higher conversions.
Simple And Clean One-Page Website
Users can also build a simple one-page site with Thrive Architect  Recommended for local businesses. This is an all-in-one website that functions as a homepage, landing page, and full website.
Pre-Built Conversion Elements
Aside from its landing templates, Thrive Architect also comes with sets of pre-built conversion elements such as customizable buttons, testimonials, countdown timers, and lead generation forms.
Create Mobile Responsive Pages
To wrap it up, Thrive Architect has mobile features and options which helps users build pages that are mobile-friendly. Thus, you can create websites and pages that will look perfect on mobile phones and tablets.

Check out the everything Thrive Architect can offer your business by clicking the click above!
What type of features are you going to find inside Thrive Architect?
Landing Page Templates
Drag And Drop Editing
Sales Pages
Opt-In Pages
Webinar Pages
Product Launch Pages
Drag And Drop Editing
Pre-Built Conversion Elements
High-Converting Homepage
Beautifully Formatted Blog Posts
Flexible Column Layouts
Full-Width Layouts
Vertical Split Layouts
Text And Image Combinations
Font Customization
Hover Effects
Style Every Detail
Animations And Actions
Mobile Responsive Features
Screen Size Preview
Toggle Visibility Of Elements And Content Blocks
Mobile Responsive Editing
I'm not a designer and I'm guessing you're not a designer either and that's why I'm recommending this plugin today. With this plugin, you don't NEED any design skills – or technical skills, for that matter. You just load up a template, make a few tweaks and it's good to go.
If there's a faster way to get a professionally designed, high-converting page published in WordPress, I don't know it.
This is one of those opportunities to really take your online business to the next level!